GANDHINAGAR, WNS: Key indicators such as Services Purchasing Managers' Index, Air passenger traffic, rail freight traffic, port traffic, foreign tourist arrivals and foreign exchange have bottomed out and are showing a V-shaped recovery. This was stated in the Economic Survey 2020-21 which was presented in the Parliament today by the Union Minister for Finance & Corporate Affairs, Smt Nirmala Sitharaman. The Survey observes that India's Services sector witnessed a significant set-back during the COVID-19 pandemic mandated lockdown, owing to its contact-intensive nature. The sector contracted by nearly 16% during the first half of the financial year 2020-21. Domestic passenger air traffic is also recovering gradually on a monthly basis, although overall demand remains subdued in comparison to last year. The Survey expects the contact intensive service sectors to witness revival with the ongoing vaccination drive.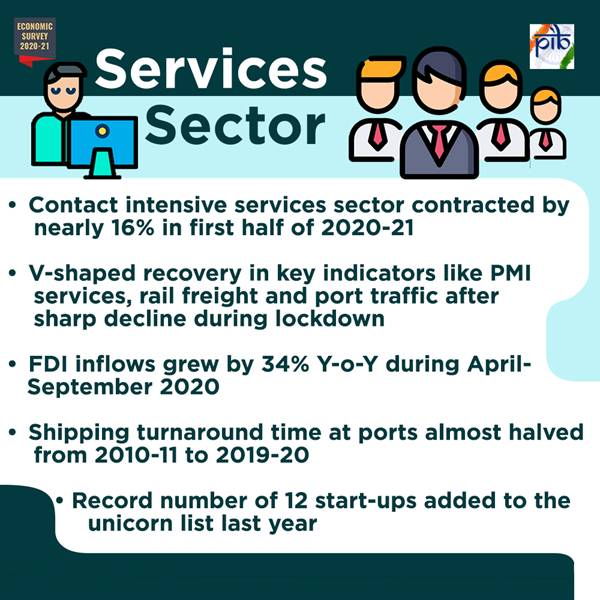 FDI Inflows into India:
According to the Survey, despite the disruptions being witnessed globally, FDI equity inflows into India's services sector grew robustly by 34% Y-o-Y during April-September 2020 to reach US$ 23.6 billion. This growth was led by strong inflows into Computer Software & Hardware sub-sector, where FDI inflows grew by over 336% during the same period. The Survey observes High growth in FDI inflows was also present in sub-sectors such as Retail Trading, Agricultural Services and Education. India has also improved its position from 12th in 2018 to 9th in 2019 in the list of world's largest FDI recipients according to World Investment Report 2020.
Gross Value Addition (GVA):
The Survey notes that the Service sector currently assumes immense significance for the Economy, accounting for over 54% of India's GVA and nearly four-fifths of total FDI inflow into India. The sector's share in Gross State Value Added exceeds 50% in 15 out of 33 States and UTs, and is particularly more pronounced in Delhi and Chandigarh. It further adds that even the states with relatively lower share of services in GSVA have witnessed strong services sector growth in the recent years. It also notes that Services sector accounts for 48% of total exports and it has outperformed goods exports in the recent years.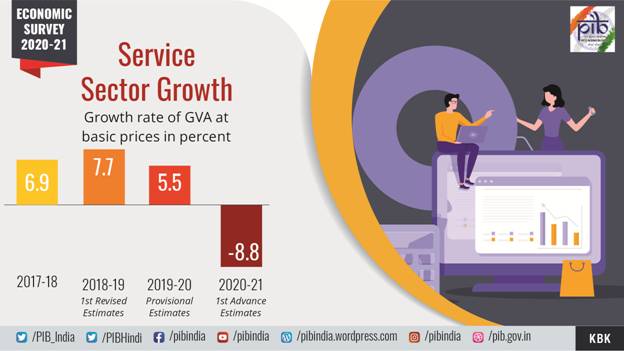 Tourism sector:
The Survey notes a debilitating impact on world travel and tourism with restrictions on travel, low consumer confidence and global struggle to contain COVID-19 virus and expects to witness revival with the ongoing vaccination drive. It further notes that with the increase in e-Tourist visa regime countries from 46 countries in 2014 to 169 at present, foreign tourist arrivals to India on e-visas have increased from 4.45 lakh in 2015 to 29.28 lakh in 2019.
IT-BPM Services:
According to the Survey, the year 2020 – 21 witnessed many significant structural reforms. Telecom related regulations were removed from IT-BPM sector and consumer protection regulations were introduced for e-commerce. The IT-BPM Industry has also embraced recent policy reforms, such as relaxation of OSP guidelines and New Umbrella Entity, to drive greater innovation and efficiency.
Start-up Ecosystem:
The Survey says the Indian start-up ecosystem has been progressing well amidst the Covid-19 pandemic. The ecosystem defied the odds and had added a record number of 12 start-ups to the unicorn list last year, taking the total to 38.
Shipping:
The Survey highlights that the shipping turnaround time at ports has almost halved from 4.67 days in 2010-11 to 2.62 days in 2019-20. As per the latest UNCTAD data, the media ship turnaround time globally is 0.97 days, suggesting that India has room to further improve upon the efficiency at ports.
Space Sector:
The Survey notes that India's space sector has grown exponentially in the past six decades. India spent about US$ 1.8 billion on space programmes in 2019-20. However, the country still lags behind major players in the sector, such as USA, China and Russia which spent about 6 times more. It furthers says that the Indian Space ecosystem is undergoing several policy reforms to engage private players and attract innovation and investment.